Looking for your Ancestor?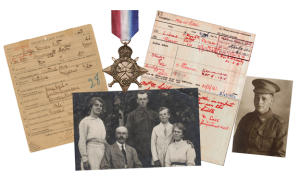 Did one of your relatives take part in the conflict and do you wish to retrace his footsteps ?
The Get-a-Guide team will research* on your behalf, find the area where he fought and the whereabouts of his regiment (if enough information is available) and find the cemetery where he is is buried (if the soldier has died in the conflict). We will then take you there and give you an account of the action, describe the battle and put it into context.
Our guides are all equipped with Ipads allowing you to view relevant WW1 photographs. We have "Linesman software" installed whereby you can view a trench map merged with a modern day topographic map and be guided using your actual GPS position !… So you can find the exact spot where your relative fought and actually follow in his footsteps.
*Please make sure you give us plenty of time to make the research before booking your visit