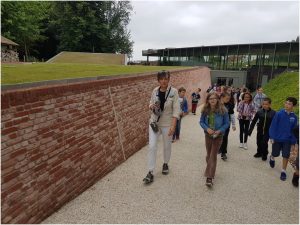 Do you need help to get your school trip organised ?
Would you love to get your pupils to see the Battlefields of the Somme but you don't know how to go about it?
Well, we are here to assist you !
* We have an excellent knowledge of the area
* We speak French…and English too !
* We can find accommodation for your group
* We can organise picnics
* …and, of course provide you with a guide
Please, ask for more details by calling Brigitte on :
0033 322 754 584
or
0033 646 005 994
Sites visited include :
Lochnagar Crater in La Boisselle
The Memorial of the Missing in Thiepval
Newfoundland Memorial Park In Beaumont-Hamel
* Through Tour Operators
"Get-a-guide" is a company which aim is to provide guides to groups of adults and school children visiting the North of France.We offer a service of high quality; taking into account our public specificities.Our guides are all accredited with the "Somme Battlefield Partnership"and have many years experience in guiding.And moreover, they are passionate about their jobs!.
Below are the details of our services:
School groups
How does it work ?
Get a guide provide guides to school groups wishing to undergo a Battlefield tour in Northern France.We deal with Tour Operators or directly with the school.
Tour Operators

We have many years experience in working with Tour Operators and we have gained a lot from it ! In that situation the guide will get on your coach at a predetermined location and will follow the itinary of your choice. At the end of your tour he/she will be dropped off at the started point or at a nearby railway station.

Schools

You need help with getting your trip organised ? Well we are here to assist you. We have an excellent knowledge of the area, we know the sites, we speak french and also we can help you with finding accommodation for your group,find a pic-nic area and, of course provide you with a guide. following the same principle as above.
Our values
Our approach to guiding follow the principle that every group is unique and so is every child within it.

Our tours are meant to be interactive; giving every child the chance to participate in the discussion.

We want to trigger their minds so that they can form their own opinion

We adapt our tour to the age of the children and their level of understanding

We want to pass on our passion and make history exciting !
Tools
We make a point in keeping up to date with the different school curicculum so that every topic has been researched in depth and can be used during the tour. Here are some of the topics we have developed

We work in close collaboration with the schools and the Tour operators to respect their program as much as possible
Our rates
We charge 33 euros per hour plus the train fare if the guide met you at a railway station or, if he/she had met you with her own vehicule, the standard mileage price.
Our fidelity deal
Many of our customers come back to us; this is why we are offering you a "Fidelity Deal".
If you use our services more than 6 times a month, we won t charge you for the 7th